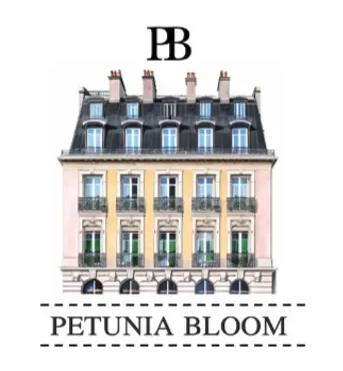 With a foundation in Couture Fashion, creator Evalina Schmidtke, along-side partner and design duo Robert Sweep, creatively express within residential furnishings.
Evalina is excited to present to you PETUNIA BLOOM HOME, an inspiring collection of atelier made essential décor cushions, bedding and custom atelier services for specialized chair slip covers. Her experience in couture fashion has instilled a lasting skill of craftsmanship and a philosophy of using only the best makers of fabric for her colourful atelier made products. We proudly present our expression of "Living in Vivid Colour".
The brand name PETUNIA BLOOM arose from the nostalgic experience that has remained with Evalina of her youth, growing up on their family orchard in Kelowna British Columbia. The colourful surrounding gardens were over-flowing with Petunias filling our garden beds and pots that my mother planted every year. They were easy to grow in a variety of conditions and bloomed abundantly right until the very first frost of the season. The petunias filled our garden with the joy of colour.
Evalina's earliest training began in a skiwear manufacturers production floor, Sun Ice Ltd in 1984. She spent 10 years learning production processes, pattern-making and sportswear technical design specializing in skiwear and mountaineering outerwear. Later, Evalina then worked as a freelance designer for American and European technical sportwear brands. Understanding the patterning and production processes became a huge asset in designing and liaising with factories to develop prototypes, making her skills highly sought after by some of the most well-known companies in the industry.
Early on in her career, Evalina discovered a passion for hand skills and directed her career pilgrimage to learn from the best-of-the-best in couture. After studying the couture fitting process under the tutelage of Mithe de Fontenay. a local teacher of the couture method of sewing and pattern drafting, in 1994 she enrolled at a seminar program for Haute Couture Fashion at the Paris Fashion Institute
operated through Columbia University. Following this she studied embroidery at the Ecole Broderie Lesage Paris. This experience left an indelible mark of appreciation of the true masters of couture and humble tradesmen and women in the world of style makers.
Imbued with her skills and experience, in 2001 she launched her own poetic bridal collection under the name of Evalina Couture, primarily selling to Bergdorf Goodman in New York . Here she presented her talents to eagerly awaiting brides wishing to experience the beautiful couture process of having a custom designed gown with customized embroideries and hand applied delicate French laces. Together with her husband Robert Sweep they continue today to influence home style through their retail store and interior design firm ROBERT SWEEP HOME FURNISHINGS in Calgary Alberta. "Colour inspires us to live more creatively and passionately."
Featured Products from Petunia Bloom on Robert Sweep HomeFurnishings